Customized Wedding Planner With Your Own Design

May 27,2019


SESE
Everyone expect to have a special Wedding, then how to organize your own wedding? How about get an customized wedding planner with your own design?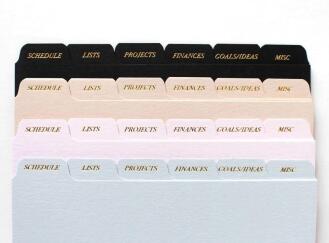 For wedding planner, mostly will have tabs sheets. There are 2 tabs type can be customized. One is custom and the other one is indices. Let's learn about the difference from these of the wedding planner. For the common tabs, the material should be 140 gsm offset paper( wood-free paper), because it will be very easy to break if the material is too thin. The size will be the 10 mm bigger than interior size, for which people can find the tabs and open it easily. . And it will die-cut in shape and with mylar coating and make the tabs more strong and durable. For the customized wedding planner, If for yearly planner, there will be 12 tabs in total.So you can divide the tabs in to several group, like 3-4 group. Of course, you can keep them in only one group.
Another type of customized wedding planner is indices tabs, the material for indices and inside pages can be the same, and its size are the same as well. For this tabs, is cutting in stepwise.You can see pictures of the wedding planner and find the different between two tabs.
For make indices tabs, what kind of binding ban be made for wedding planner? Hardcover binding, perfect binding and wire-o binding and spiral binding. But if for the common tabs, it can only make wire-o binding and spiral binding for wedding planner.
If you need any help for wedding planner project, please feel free to contact me.