Spiral Notebook Printing: Materials, Binding, and Customization

Nov 06,2023


SESE
Spiral Notebook Printing: Materials, Binding, and Customization for Your Brand
When it comes to creating spiral notebooks, choosing the right materials, binding methods, and customization options is crucial for ensuring the quality and appeal of the final product. Whether you're producing notebooks for schools, offices, or as promotional gifts, spiral notebook printing can add a unique touch to your brand or event.
Materials




Choosing the right materials is the first step in crafting spiral notebooks. Generally, there are two main options to consider: hardcover and softcover.
Hardcover spiral notebooks are typically made from more durable materials such as cardboard, PU leather, or fabric. These options offer greater protection, making the notebooks suitable for use in schools, offices, or while traveling. Additionally, hardcovers offer a premium look and feel, making them ideal for high-end gifts or corporate promotions.
| | | |
| --- | --- | --- |
| | | |
| Cardboard Cover | Leather Cover | Fabric Cover |
Softcover spiral notebooks are usually crafted from lightweight

materials like paperboard and soft leather. These notebooks

are perfect for everyday note-taking, sketching, or doodling,

as they are more portable. Softcovers also provide greater

customization options, allowing you to print patterns, photos,

or unique designs, making them standout personalized gifts.
Binding Methods




The binding method you choose for your spiral notebooks is another critical consideration. Generally, there are two main binding methods: wire-o binding and coil binding.
Wire-O Binding is the most common binding method for

spiral

notebooks. It uses a metal wire coil to securely hold

the

notebook's inner pages. This binding method is highly

versatile,

allowing pages to flip a full 360 degrees, making

writing and

reading easier. Wire-O binding also facilitates

the addition or

removal of pages, providing flexibility and adaptability.
Coil Binding is a more refined binding method, with the coil

embedded inside the cover, creating a sleek and upscale

appearance. This binding method is suitable for brands or

events that want to project a professional image. It often

includes options for foil stamping or logo printing on the

cover for added sophistication.
Customization Options




To make your spiral notebooks truly unique, consider various customization options. These options include but are not limited to:
Design Printing: You can print your logo, patterns, branding information, or any design you desire on the cover. This helps increase brand visibility or make the notebook a special gift.
Cover Material: Choose from a variety of colors, textures, and patterns for your cover material to enhance the notebook's look and feel.
Page Layout: Select the page layout that suits your needs, whether it's grid, ruled, plain, or specialized layouts. This ensures that the notebook caters to users' requirements.
Additional Features: Consider adding extra features like bookmarks, inner pockets, ribbons, tabs, pen loops, metal corners, paper banners, elastic bands, stickers etc., to enhance the notebook's practicality.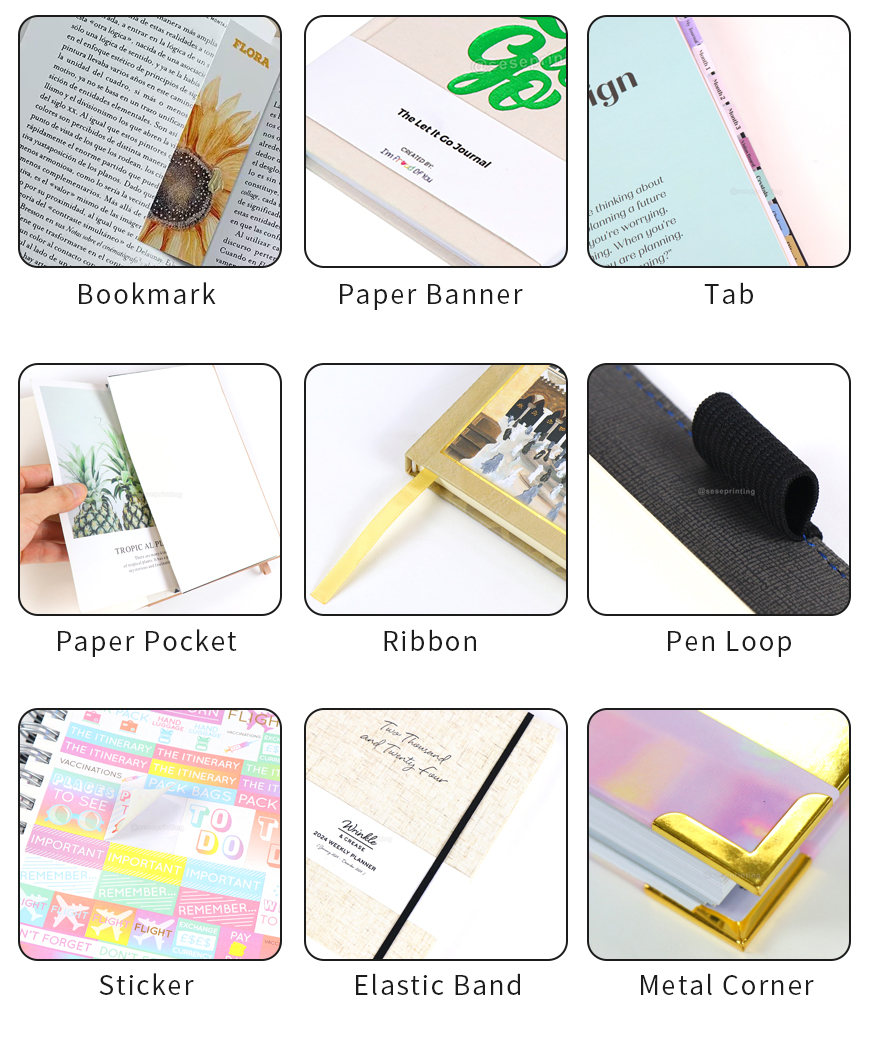 Packaging: Design an appealing packaging that makes your spiral notebook even more attractive, whether it's for gifting or retail.
By carefully selecting materials, binding methods, and customization options, you can create an eye-catching spiral notebook that not only meets users' needs but also enhances your brand's image.

Exploring Customization Options in Softcover Book Printing