How to make your custom children books more interesting?

May 14,2019


SESE
How to make a good custom children book? The most important factor, of course, is interesting content and illustrations. But what people see at first glance in a bookstore or library is not the content of a book, so how do you get them to notice your custom children books?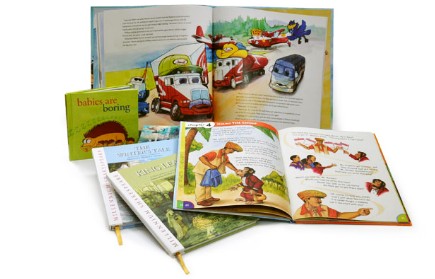 Firstly, the cover of the custom children books is very important. Because that is the first impression of your books. The cover of your custom children books better to be colorful, and with some special surface finish on it. For example, embossing or stamping the title of the book on the cover, can makes the title more outstanding. Or making the window on the cover, to make the cover looks more special than other children books!
As this is the children book, so the high quality paper and high printing quality are very important because children will often flip through the books. Custom children books is one of the strong points of our factory, and it is also the main product. We will give professional advice on materials according to the size and thickness of your custom children books. Because we know that interesting content needs high-quality material to make the custom children books more perfect.
Except the cover and material, you also can choose to add some accessories to make the custom children books more attractive and advanced. For example, adding the dust jacket for the custom children books, it can be protect the cover very well. Or when you want to do the cover with leather or cloth material, so the cover can't be colorful because the leather or cloth cover can't be printed, then you can add the dust jacket for the book, and make the dust jacket more colorful!
And you can choose to add the colorful ribbon marks for your custom children books, which can also help children to where he read the last time!
If you want to print your custom children books and have more questions after reading this article, please contact us at any time! We will always here to help you to do the best custom children books!!