How to process playing cards printing?

Sep 04,2017


SESE
Firstly , determine the printing method
If you want to print a playing card, you must first to make sure your printing method, since the different printing methods will decide to use a different card carrier, but also make effect on the printing price of the card.
Playing card printing using computer and color laser printer can be completed, card paper with 292 × 197mm paper, each paper can do ten cards. Its characteristics are: printing speed, playing cards Printing typography printing at one time , and the production of good quality cards, a set of simple cards from the orders, typesetting to delivery can be completed within one hour . The high quality and high timeliness of computer digital cards makes it a mainstream card production method. But digital printing of the playing cards printingusually use on the sample printing . As it is expensive than offset printing.1. Digital printing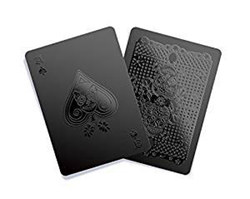 2, offset card:
Playing card printing using computer, black and white laser printer, card offset press to complete, playing card paper with 57 mm x 87 mm or 63 mm x 88 mm card special paper, playing cards printing each paper can only print a card. Its advantages are: can fully express all the cards of the creative, for the current traditional playing card printing form. Disadvantages: low speed , long timeline , high price and low quality .
The playing card printing process
Playing card printing is currently the most important three, the most simple for laser printing, followed by offset printing, screen printing the most complicated. Currently , Playing cards Printing laser printing and offset printing is widely used, while screen printing is relatively small.
Laser printing:
For the most widely used printing methods. Offset and wire mesh is also apart from the laser print, Playing cards Printing they are simple plate also by laser printing to complete. The current laser printing can be divided into black and color two type, they can make different grades of playing cards printing .
Offset printing s the traditional way of card printing. It is much more complicated than digital printing the first design of a good card pattern to play on the transfer paper, Cards Printing or out of the printing film and then use the transfer paper or film On the card model sun drying card dedicated PS printing plate, the sun good PS version of the card printing machine can be printed on the printing.
Screen printing: because it is not suitable for printing on paper, in the card printing rarely used. Screen printing and offset printing, also need to design a good card pattern hit the transfer paper, playing cards Printing or out of the printing film, and then use the screen dedicated to transfer paper or film on the film model sun To the screen printing plate, then the screen version of the screen printing machine can be printed on the screen.