2023 Frankfurt Book Fair

Aug 21,2023


SESE
Sincerely invite you to participate in SESE Printing company's 2023 Frankfurt Book Fair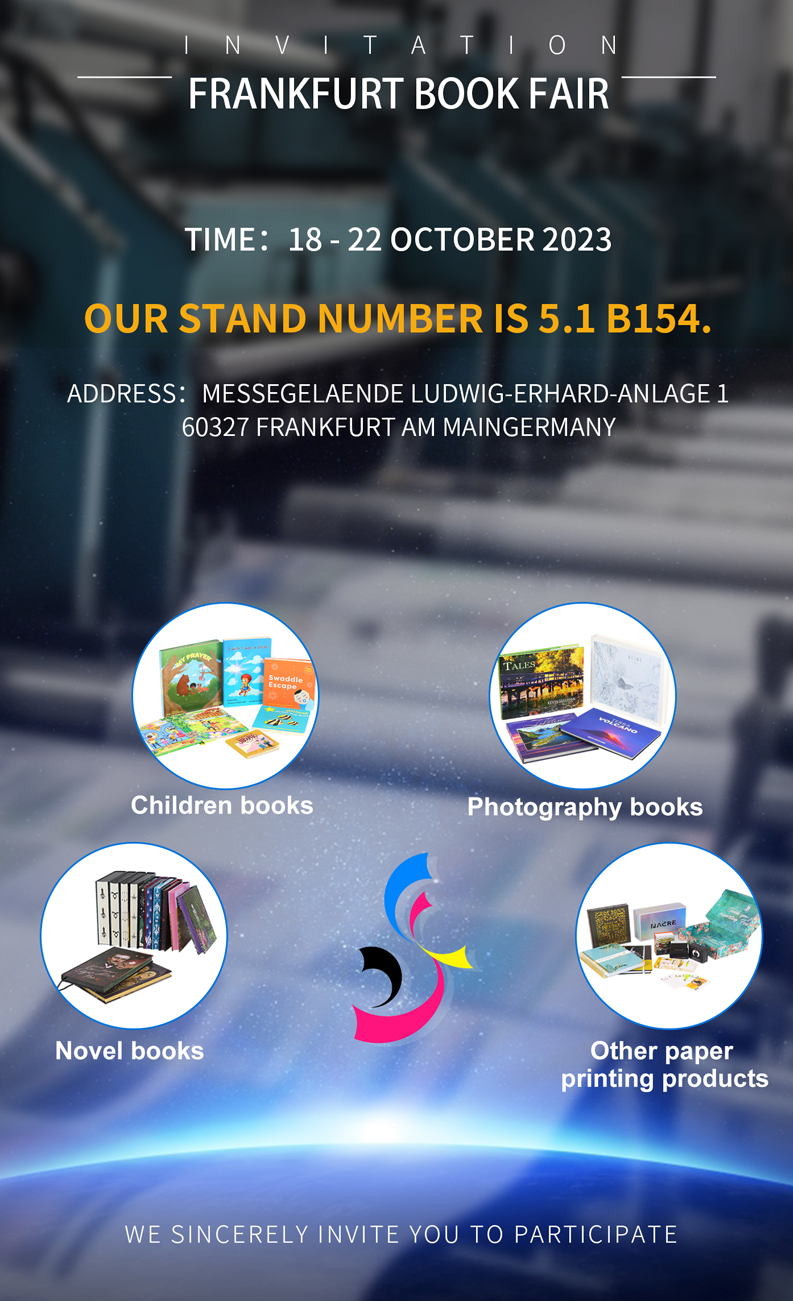 Good news! ! ! We are pleased to announce that our company will be participating in the highly anticipated 75th Frankfurt Book Fair, Germany, which will be held from October 18-22, 2023! This prestigious event brings together publishers, authors, agents and book lovers from around the world. We sincerely invite you to attend our exhibition and experience the excellent service we provide.
In our company, we pride ourselves on providing first class book printing, notebook printing, card printing and box printing services. With years of industry experience and expertise, we have become a reliable partner for publishers and authors worldwide. Our commitment to quality, innovation and customer satisfaction sets us apart from the competition.
The Frankfurt Book Fair is the ideal platform to showcase our services and connect with industry professionals. As one of the largest and most influential book fairs in the world, it offers a unique opportunity to explore the latest trends, form new partnerships and gain insight into the ever-evolving publishing industry. Whether you are an aspiring author, publisher representative or book lover, we are confident that our exhibitions will provide you with valuable knowledge and exciting opportunities.
During the show, you will have the opportunity to interact with our professional and knowledgeable team who will be on hand to answer any questions you may have. We'll showcase a variety of printing options, including various paper types, formats, designs, and finishing options. Our state-of-the-art printing technology ensures exceptional quality and attention to detail in every project we undertake.
Additionally, our team will be available to discuss customization options such as personalized covers, embossing, foil stamping and special edition printing. We understand the importance of individuality and uniqueness in the world of publishing and work hard to bring your creative vision to life.
In addition to our impressive printing capabilities, we offer competitive pricing, efficient turnaround times, and exceptional customer service. We pride ourselves on building long-term relationships with our clients, understanding their unique needs and delivering service that exceeds their expectations.
Participation in the Frankfurt Book Fair is a major investment for our company, both in terms of resources and energy. However, we strongly believe that the exposure and opportunity it brings will be invaluable to the growth and success of our business. We're excited to connect with industry professionals, form new partnerships, and contribute to the ever-evolving world of publishing.
Finally, we sincerely invite you to participate in our company's exhibition at the 75th Frankfurt Book Fair in Germany from October 18th to 22nd, 2023. Explore our exceptional book printing, notebook printing, card printing and color box printing services and discover the endless possibilities for your publishing needs. Join us at this prestigious event and be part of a vibrant literary and publishing community. We look forward to meeting you there!

How much do you know about the coil binding of the customized notebooks?