How to custom your playing cards deck

May 16,2019


SESE
Hi, to people who are seeing this composition now. I am going to share you how to custom your beautiful and interesting playing cards deck based under my personal knowledge.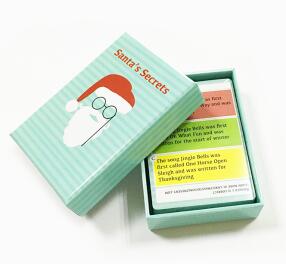 Playing cards is an more attractive project for me. Now I am going to write down what material should use for making cards and box, which size is much easy to use and save money when making plate and some other details you may concerned.
1.Material:
For cards: 300gsm glossy art paper is always used to make cards, durable and common use for almost cards. Sometime we also have customers need 250gsm glossy art paper for cards, that' s okay but softer. So paper use are depends on your own request. If you do not have special request, 300gsm glossy art paper for making cards is best and suitable choice.
For tuck box: Using 300gsm one side glossy art paper to make tuck box is good enough, easy to fold and we got no bad feedback for box quality yet. Some customers would like much thicker paper like 350gsm one side glossy art paper if hold too many cards inside. So it will depends on your request and cards number too.
2.Size
This point is hard to say, because so many size request available. Some customers like big size like Tarot cards size, some like mini size, very small. However, regarding to budget, 3 size can help to save cost and also used for common playing cards: 57*87mm; 63*88mm; 88*88mm. If you want to run your playing cards business with a certain budget, these 3 sizes you may refer to.
3.Packaging
Shrink package is a default term listed on playing cards deck quote sheet in order to avoid cards leak out from tuck box. Only when customers say no to package, or else cost for shrink package is always including into quote sheet.
The above details are what I know how to do a good enough playing cards deck so far. Hope what I know can help a lot. Also please allow mistakes may due to my not good enough knowledge and expression ability. Warmly welcome to visit our company web for more information: http://seseprinting.en.alibaba.com. Also welcome to leave your inquiry letter to my email: sales05@seseprinting.com, if you have a new printing project going to run! Thanks all.