How To Pick Trim Size Of Your Book- SeSe Book Printing

Jun 29,2019


SESE
Hi, thanks for click on this article! Here will share with you all some basic knowledge about what is trim size, how to use trim size before starting your design and asking quote based on a target price. Since we used to have customers who are confused and serious about what trim size should be their books and it took me a long time to make it clear, that' s why this article exist now.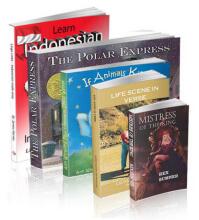 1.What is trim size:
Trim size is a professional term on book printing industry, we usually called it as finished product size as well in China. When artworks finished printing, the paper should be trimmed the extra part in order to keep all pages are uniform, since the pages are slightly larger than final book size.
2.What factors we have to consider before chose a trim size:
* A trim size will have effect on reading experience. People enjoy to read and comfortable to carry book in hand even when they' re in traveling.
* A trim size will have effect on book effect. When printing a document with a certain words. The smaller the trim size is, the thicker book you will have, the book spine will be thicker as well. So when making the artwork, we also determine if a thicker or thinner book you and your customers will like.
* A trim size will affect your printing cost as well. The price will charge based on page count which will have effect on plate fee. You may search too many common and cost- saving trim sizes for your books from website, I am not going to list here since number limited, thanks for understand.
The above are what I know about the trim size by now. Hope it helps a lot when you making your artwork. You' re welcome to get a quote at: http://www.book-printing-factory.com. Your inquiry will get a quick attention.