SeSe Book Printing -Paper Type And Binding For Photo Book

Jul 01,2019


SESE
Photos say more than words. That why so many photos book available, they want to keep the photos on a real book instead of in phone, while photos will easily delete. Now I am going to share you some thing I know about photos book.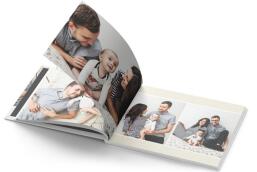 1.Paper type: Normally we offer 2 options for paper type": matte art paper pr glossy art paper.
* Glossy art paper: We have most customers have general preference on glossy art paper. This kind paper is highly coated, smooth surface with glossy and reflects light. It' s much more brighter if you have a deep ink artwork.
* Matt art paper: Some customers dislike glossy paper because they can' t see images clearly in bright light, so they will turn to matte coated paper. Matte paper provide a smooth and silky touch feeling when people hold the book. It provide a classic look and larger texture which will have effect on natural light, vivid color and high- end look for all images. This paper is a bit more expensive than other papers, but it worth because its unique and fine art appeal.
2.Photo book binding
Many different type of book binding are available,perfect binding and hardcover with section sewn binding will be 2 options you will often see and used.
Perfect binding is the most common, but this binding do not allow an image placed across two pages because part of image will be hidden on book' s spine. For this reason, hardcover book binding allow a lay flat completed image, so it become popular and perfect for nature photographs and landscape photos and special photos.
Will you have project for photo book? Here we will help to offer paper type and suggestions to make your special photo books. It would be great if we could help with your photo books project. You' re welcome to get a fast quote at: http://www.book-printing-factory.com. Your inquiry will get a quick attention.