Do you know how to produce your custom notebooks?

Jun 17,2019


SESE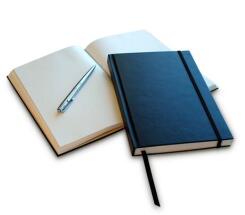 Many customers who want to print their own custom notebooks are curious about the same question: how were these custom notebooks made? Or what is the production process of custom notebooks? As a printing factory with rich experience on custom notebooks printing, we are so glad to explain the whole production process of custom notebooks.
The most common binding types of the custom notebooks are hardcover section sewn binding and spiral binding. The major difference of these two binding types is the binding, for the production of cover and inside pages, there has no much difference.
Firstly, the premise of production is that all the details, the design and the money are agreed. And then we will arrange the mass production. The first step of the mass production is checking the design file, the design team will check it if there has any problems likes the size, the resolution and the color, etc.. if the design is okay, we will make the blue proof to check the page orders, at the same time, we will purchasing the material.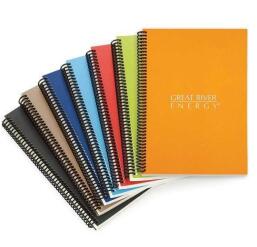 After checking the blue proof and making the printing plate, the custom notebooks are ready to be print. The production team will choosing the printing machine according to the color requirements (we have one color printing machine, two color printing machine, four color printing machine and eight color printing machines, and all of them are Heidelberg machines from German, which is the most famous printing machine brand in printing industry), and then the custom notebooks will be print, if the cover need to be with the special surface finish likes embossing/stamping/UV, it will be done after printing.
These are the same production steps for hardcover custom notebooks and spiral custom notebooks, and the next step is to explain the different production processes of these two binding methods.
Hardcover custom notebooks:
The cover page mounting the greyboard--- folding inside pages---gathering---section sewing---gluing---cut the books to finished size---case in---pressing---QC inspection---start to packing if the books are qualified---delivery.
Spiral custom notebooks:
Folding inside pages---gathering---cut the books to finished size---drilling the holes---put the spirals in---QC inspection---start to packing if the books are qualified---delivery.
There is QC inspection after every production process, and one worker will select at least 20% of order after packing before delivery.
Can you understand the production process of the custom notebooks more clearly after reading this article? If you want to know more information, please contact us at any time!