Book Printing Portrait Versus Landscape Orientation On Book Format

Jul 30,2019


SESE
The first time when I meet 2 terms 'portrait' and ' landscape', I was confused about why they will effect price even the book are in same size but difference in orientation. After asking people and search from internet so many times, I found the reasons finally and cannot wait to share with you!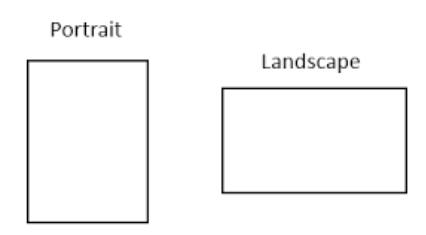 First, let' s see what is portrait and landscape book:
By definition, the spine of a landscape format book is shorter than on a portrait format book of the same page area. A simple example helps to make clear book format: 8.5*11 inches VS 11*8.5 inches
- 8.5*11 inches: a book with a portrait orientation is taller than it is wide. The Portrait format has a vertical shape, which is regarded as the most common choice for printed book projects.
- 11*8.5 inches: a book with a landscape orientation is wider than it is tall. A landscape format is not as common as the portrait format, but it is still very widely used, because landscape format is comfortable and provide a unique reading experience while enjoying a photography book.
Second, why we usually suggest portrait orientation for book: even a book in same page area but different in orientation will cause price difference, due to difference orientation will lead to different plate making, while plate has a great effect on price. Also a book bound in portrait format along the longer edge, this ensures that they are stronger and more durable.
I do hope what I know about the portrait and landscape will helps a lot while you make decision to your book format. Do you have book project in recent? Welcome to send us inquiry with exact book format to: http://www.book-printing-factory.com. Your inquiry will get a quick attention. Warmly welcome to visit our store at Alibaba for more information: http://seseprinting.en.alibaba.com.