Different Tab Sheets for Customized Planner Printing

Jul 03,2019


SESE
Customized planner printing is now more and more popular, cause you can create your own design to win your market and customers. In order to help the user to remember where they read or use last time. Then that is the reason why they create the Tab sheets for customized planner. But what kind of tab sheets can be make for the customized planner?
Now let's check what kind of tab sheet can make. The first tab sheet for the customized planner is the most common one. The size will be 10 mm bigger than the inside pages. And will make the die-cutting to be a tab, you can make the gold foil stamping, or just printing on it. But it is necessary to make the mylar coating on the tabs sheets. Otherwise,the tab sheets will be very easy to break. The material of the kind of the tab sheets is 140 gsm offset paper at least. Cause the tab sheet should be thick enough to make the mylar coating. Attention, this kind of tabs can only make wire-o binding or spiral binding or rings binding.
The second tab sheet of the customized planner is indices tab. Which is very expensive and difficult. The material of Indices can be the same as inside pages and the size is the same as well. But indices is stepped cutting then you can see tabs organized in order like a stair. But there is only mylar coated on the first indices for each grade of the notebooks. But this kind of indices can have 5 different binding, such as hardcover binding, perfect binding, wire-o binding, spiral binding and rings binding. You can choose one you prefer.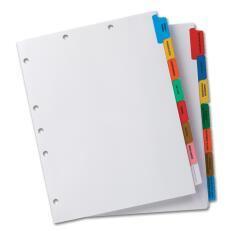 The third one for customized planner is plastic tabs, it means the material of the tabs is plastic. For this kind of tabs, the thickness mostly are 0.3 mm PVC. And it can be colored printing or just keep blank. You can make die-cut like the common tab, or you just keep the with the same size as inside pages. This kind of tabs can be only wire-o binding, spiral binding and rings binding.
The fourth one for customized planner is thick paper tabs. It is made with thick paper with lamination or varnish on both sides. But just keep the same size as inside pages. And the binding is the same as plastic tabs and common tabs. Anyway, you can required the different tab sheets for your customized planner according to your preference.
If need any help for the customized planner printing service, please feel free to contact us, we will offer the professional printing service and good quality.