Cusomized Binder Printing For Office

Jun 12,2019


SESE
Binder is the most popular products for document storage in office. But for Customized Binder printing, what can we do and what we can help to do? Let's talk about that can find some solution to help with your project.
For customized binder printing, it is only a very easy products with only cover and binding. But how to make a simple thing looks different? For the cover of Binder, it can be cloth, leather and paper? What is the difference between them? Leather and cloth looks more luxurious. For LOGO finished of customized Binder printing,cloth and leather can not be offset printing, it can only LOGO gold/ silver foil stamping. And debossed/ embossed. Any way, it can be silk screen printing full color, but the price will be very very expensive, so we do not suggest to have full color silk screen printing. However, paper cover can be offset printing full color, with LOGO gold/ silver, debossed and embossed and also spot UV.As well as with excellent design on paper material. What's more, the price for paper cover will be more reason and affordable.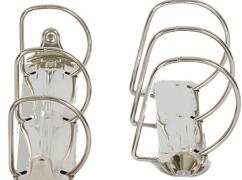 For the inside of customized binding printing, you can keep empty or you can have some divider tabs to as a guide, and the material of the tabs can be PVC material or thick paper material, it depends on your budget and your need. And the inside you can have some transparent PVC pocket for you to put inside the files.
For the binding of customized binder printing, It has D-rings binding, circle rings binding and clip binding. Of course, D-rings and 3-6 circle rings binding will be more common and popular. As for the packages for customized binder printing, it can be poly bag packing and shrink packing and you can custom a binder case or customized box for the binding.
If you need any customized binder printing, please feel free to contact us. We will make our great effort to help with your project.