Personalized Card Games - Custom Playing Cards

Aug 21,2018


SESE
Many people like to go out and play cards. There are various reasons why they are found of playing such cards. For some, it is just form of entertainment and a way to pass time, for another set of people, it is gambling and an opportunity to win some hard cash through it. Thus, people play these card games for one reason or other and there are different types of games that you can play by using these cards. Some of these games from having a company printed custom playing cards.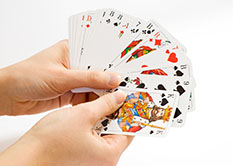 For professionals and artisans, who are capable of making such cards on daily basis, have many opportunities to create a new designs. Such designs make the card sets more attractive and people will prefer to buy a beautiful card set instead of an ordinary set from the company. Such innovative designs also help a company in making and creating their own brand that will be popular among the general public.
By making custom playing cards printing groundbreaking and advance, such companies are making sure that the cards are perfect for every game that is being played by the games and card users. Moreover, there are several different cards that are used in every game and these custom playing cards can also be printed with a beautifully designed graphical picture or several such printed designs that are suitable for making designer cards. Thus, these playing cards are great for many things such as giving these card sets as gifts on many occasions such as companies and corporations give out card sets to their customers as well as their employees in order to improve product sales or advertising the name of their company or motivating employees for doing the job in much better manner.
Now, let's go for the benefits that these custom playing cards printing can provide us in the long run. As we have said above there are various benefits that are as follows:-
1) Through these card sets, you can be able to play various personalized card games such as poker that has gained massive popularity over some last few years. When this particular card game was introduced, it was played only by the middle-aged people, but in the present context, people of two separate genders as well as people from all the ages are enjoying this card game. This was the first and the foremost benefit of playing this printed custom playing cards with the help of personalized card games. Moreover, these personalized card games are also one of the cheapest and easiest options for modifying a game's module.
2) The second foremost benefit is promotional handouts. Everyone, even an average person is well aware of the fact the economic climate all over the world is not in a good shape because of the competitive environment. Each and every big company is looking for various new and innovative ways to increase their sales production through advertising and marketing of their company's product. It is also done to elevate the image of the business firm in the market. Thus, handing out personalized deck of cards with printed company logo is also an easy, effective and affordable method for any business in the corporate market to advertise products and services of the company.
For further explanation, examples and references, please visit our site and enhance your own knowledge about the class and range of the products we are offering to our customers.