How to print your custom notebooks with fabric cover

Nov 02,2019


SESE
As people\'s requirements for quality of life become higher and higher, the market of custom notebooks is becoming more and more intense. How to make custom notebooks more and unique, how to attract the attention of customers, which is a matter of great concern to many companies.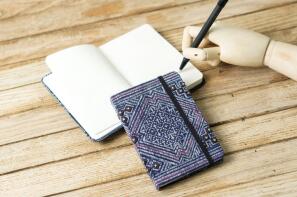 So people are looking for ways to make custom notebooks more special. Of course, the content of notebooks is very important, but the cover of notebooks is also very important, which determines people\'s first impression, and even the desire to buy. So the ordinary paper cover can\'t meet the needs of people, they want to use some special materials instead of paper, such as fabric cover.
The fabric cover is more advanced than the paper cover, both visually and tactile. And fabric cover has a lot of texture and color to choose. If you want the slightly simpler fabric cover custom notebooks, you can choose the fabric color and texture you like, and then embossed or gold stamped the logo on the cover. If you want your custom notebooks to have colorful fabric cover, you can choose the white fabric material and print your design on the fabric cover.
But of course the price of the fabric cover will be more expensive than paper cover. So if you just want the cover of your custom notebooks to look and feel like fabric, but you don\'t want an expensive price, we suggest that you can make a cover with imitated cloth paper. It\'s a special kind of paper that looks a lot like fabric on the surface, but it\'s actually paper. The price of this material is between the paper and the real fabric, of course, its durability is certainly not as good as the real fabric, and so if you don\'t need a very durable notebook cover, the imitated cloth paper paper will be perfect for you.
Except the fabric cover material, we can also do the leather cover for the custom notebooks, even the paper cover can be done with some special surface finish which can makes the cover looks interesting! So if you want to print your special custom notebooks, please contact us at any time, we will always here to provide the best printing service to you!